ELEKTRON-MD metal detectors are devices specially dedicated to testing products in difficult conditions with a very high degree of interference. They are designed in such a way as to eliminate the negative impact of a difficult product and the environment on the detection level to the maximum extent.
LIFETIME WARRANTY
From July 1, 2019, we offer a lifetime (10-year) warranty on the probes of our detectors.
WHAT MAKES US STAND OUT?
NON-CONTACT AUTO-LEARNING SYSTEM
The ELEKTRON-MD series of detectors has a non-contact auto-learning system that cannot be found in other detectors. The non-contact auto-learning system analyzes the tested product and automatically saves the detection parameters (e.g. the effect of the product itself and the background of the environment). The detector, controlling the conveyor, automatically moves the product through the detection probe window back and forth until the learning is completed. This solution facilitates work, especially with heavy products. As a result, learning is much more accurate without interruption and increases the level of detection and the stability of the metal detector.
AUTO-CALIBRATION SYSTEM
Our metal detectors have a built-in auto-calibration system, thanks to which the devices do not require constant service inspections. The detection system accurately oscillates at the frequency of the test substance, adjusting itself to variable values. The management system is designed in such a way that every time the detector is disconnected from the network for about 15 minutes, it automatically performs background analysis and calibrates the system after restarting.
"FROST" SYSTEM
Our metal detectors can be equipped with unparalleled in other detectors, the "FROST" system with a built-in intelligent heating and thermostat system, inside the control panel, which protects the internal electronics against moisture and cold. It is the only protection against sudden temperature changes during washing and prevents the absorption of moisture inside (for example a cold machine washed with hot water). Operation of the machine in a cold store and with a frozen product.
DESTINY
Metal detectors for large products are mainly used in the food industry to test products packed in E1 or E2 boxes, bags or large cardboard boxes. These types of devices are designed to test products such as:
meat, cold cuts, fish, seafood - fresh and also frozen,

vegetables and fruits - fresh, frozen and processed,

dairy products - milk, cheese, cream, etc.,

bakery and confectionery products - bread, rolls, cookies, etc.,

ready-made products - ready-made dinner dishes, e.g. dumplings, noodles, etc.
SPECIFICATION
NO / NC output to stop another machine or transporter.

Optical and acoustic alarm.

Automatic separator.

Separator working pressure 5-7 Atm (in the case of a bulldozer).

Lockable container for rejected products (in case of blower or bulldozer).

Space for a container E1 or E2 locked with a key (in the case of a pneumatic trapdoor).

Cover of the detection zone made of transparent polycarbonate.

Large and easy to read touch display.

USB output for reading and archiving data.

Detection history, date and time.

IP68 probe tightness class, conveyor drive IP54 / 56.

Menu in Polish and English (standard).

Menu in German, French, Russian, Italian, Spanish, Turkish and Arabic (optional).
SYSTEM FUNCTIONS
Automatic background analysis and self calibration of the system.

Password protected access levels.

Simple and clear parameter setting system.

Memory function for testing 100 different products.

Automatic learning of the tested product.

Work in automatic variable frequency.

Automatic detection correctness enforcement system.

Detection analysis graph.

"FROST" system
SIGNS
H - detector dedicated to work in difficult conditions
F - detector with a built-in "FROST" system
S - detector having a separator
S-S - detector with a standing probe with a separator
G - metal detector tape has a so-called rubber grapple
E - metal detector designed for E1 and E2 crates and for large boxes or bags
EQUIPMENT
The metal detector can be equipped with one of four recoil systems:
The pusher is designed for larger and heavier products, even up to 60 kg.

The trapdoor is used for loose and dry products.

Scraping arm, used for products in packages up to 3 kg.

A trapdoor in the form of a falling conveyor.
KINDS OF KICKBACK SYSTEMS

Additionally, the detector can be equipped with a roller conveyor for E1 and E2 boxes or a ramp for bags and cartons.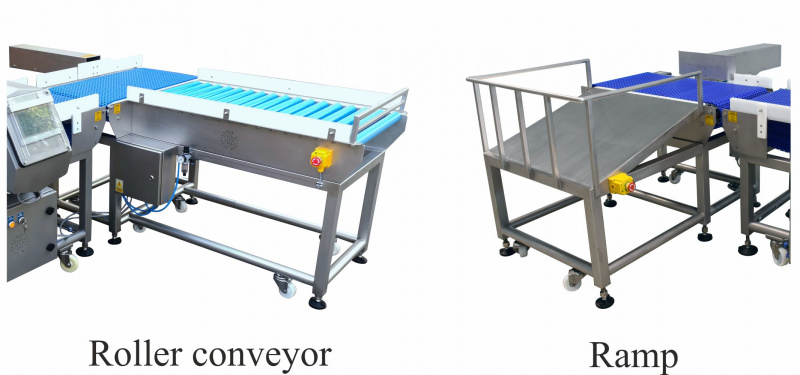 PARAMETERS
Model

ELEKTRON-MD

Specification

5012, 5015

5018, 5025

6015, 6032

Probe working width

500 mm

600 mm

Probe working height

120 mm, 150 mm

180 mm, 250 mm

150 mm, 320 mm

Detection level

Fe

Ø ≤ 1,0

Ø ≤ 1,0

NoFe

Ø ≤ 1,2

Ø ≤ 1,2

St/st

Ø ≤ 1,5

Ø ≤ 1,5

The width of the conveyor belt

460 mm

560 mm

Maximum load

50 kg/m2

50 kg/m2

Display mode

Touchscreen HMI

Control panel

Touchscreen (optional analog buttons)

Memory function

for 100 different products

Type of conveyor belt

Modular (optional polyurethane)

Transporter work direction

From left to right (optional from right to left)

Type of control panel cover

Polycarbonate (optional made of stainless steel)

Cover of the detection zone

Polycarbonate (optional)

Sides

Without regulation (optional with regulation)

Signaling detection of pollution

Optical-acoustic alarm and conveyor belt stopping

Rejector system

Trapdoor / Pusher / Scraping arm / A trapdoor in of a falling conveyor

Container for rejected products

Stainless steel (optional polycarbonate)

1.Confirmation of the discharge of contaminated product

2.Signal for a filled container

Option

Conveyor belt speed

Without regulation (optional withregulation in the range of 0-35 m / min.)

"FROST" system

Option

Power

230 V

Working temperature

0˚C/+45˚C