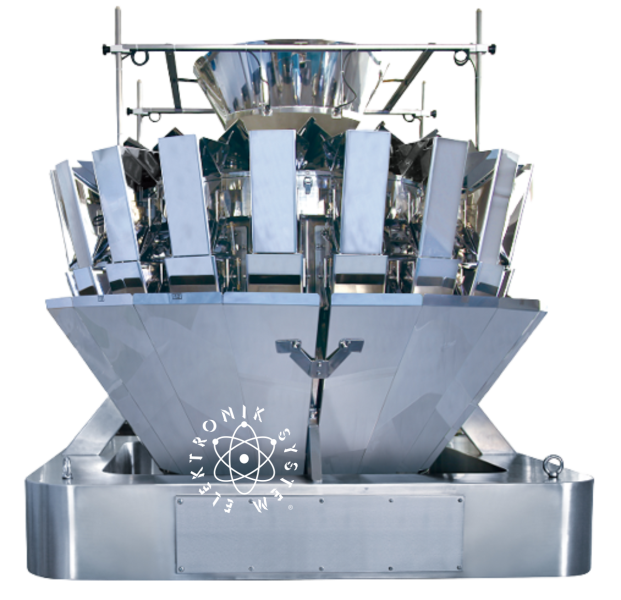 PARAMETERS
Model

MHW-20 1,6l

MHW-20 2,5l

Weighing chambers

1,6l hinged on one side

2,5l hinged on one side

Weighing range

20-2000g

Deviation

± 0,5-2g

Max speed

up to 65 servings per minute

up to 120 servings per minute

Considering system

20 weighing sections

Separating cone

vibrating with strain gauge

Control panel

10.1" touch screen

Housing material

SUS304 / SUS316

Tightness class

IP64 / IP66

Power

230V, 50Hz, 2,0KW
APPLICATION
The ELEKTRON-MHW-20 Combined Automatic Multi-Head Portioning Weigher is a universal multi-head dispenser for precise weighing of all kinds of powdery and granular products, for example, such as frozen foods, chocolate, cookies, coffee, spices, seeds, nuts, candies, chemical products, pet food for animals, breadcrumbs, groats, sugar, French fries and other semi-finished products.
MAIN FEATURES
20 charging sections,

function of an automatic error calibration system with the possibility of adjusting the weight tolerance,

all automatic unloading sections can be opened for cleaning and keeping clean when changing the type or type of product,

self-weighing charging section has an automatic unloading system in case of clogging or blockage,

menu in Polish and English,

has the function of measuring weight based on the weight of the product, counting individual products or according to the customer's will.
LIST OF COMPONENTS
Mine board components

Main processor

Fujitsu – Japan

ROM

Cypress - USA

RAM

Integrated Silicon Solution, Inc. - USA

Communication

Sipex Corporation - USA

Display board

CPU Processor

Freescale - USA

ROM

Spansion - USA

RAM

Micron - USA

Communication

ADI - Taiwan

Display screen

10.4-inch TFT

NEC Corporation - Japan

Touch pannel

Touch pannel

Magic touch - Taiwan

Drive board

Motor drive

SANYO -   Japan

National Semiconductor - USA

Controllers

Slit IR barriers

Toshiba – Japan
WE PROVIDE WARRANTY AND POST-WARRANTY SERVICE!