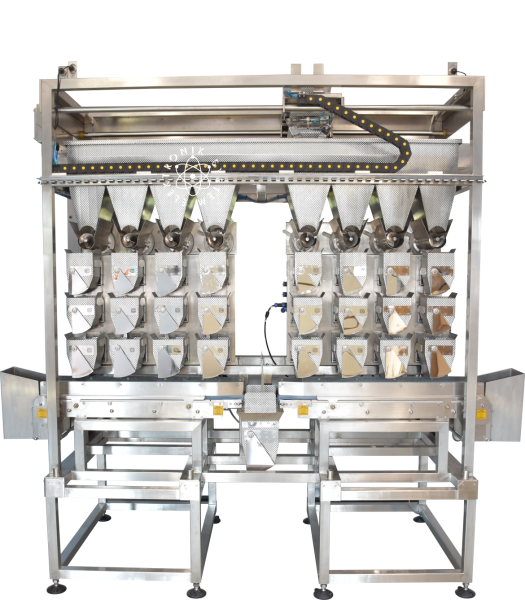 PARAMETERS
Model

ELEKTRON-LWW-8

Number of weighing sections

8

Memory chamber

8

Speed

(for each product, the final effect may differ)

0,5kg- 20-25 szt./min

1kg- 12-18 szt./min

2,5kg- 8-12 szt./min

Weighing pan capacity

2,5 l

Power consumption

1,5 kW

Standard machine dimensions

2686 mm x 2629 mm x 1130 mm

Work platform dimensions

550 mm

Libra

350/400 kg

Weight measurement method

Load cell

Weighing accuracy

+ 0.1 - 3.0 g

Control panel

9.7" touch screen

Supply voltage

230V

Drive board

stepper motor
MAIN FEATURES
Degree of protection IP65.
It is a unique and the only solution for the so-called "difficult", i.e. fresh shrimps, tripe, minced or goulash meat, poultry fillets, liver, kidneys and other parts of meat, fish, fruit and vegetables that must be considered despite their difficult physical structure and shape.
Linear augers effortlessly move difficult product into chambers and shawl
contemplating.
Automatic product dispenser, accurate weighing and feeding the product to the packaging machine.
Memory chambers increase weighing precision and speed.
Elements in direct contact with food can be quickly and efficiently disassembled without the use of tools.
Cooperation and control of the conveyor feeding the product to the hopper feeder feeding the product to each section separately.
Cooperation with any packaging machine with CE.
An ideal machine to be installed in an automatic production line replacing the work of many human hands.
The accuracy and speed of the consideration depends on the physical properties of the product being weighed.
Smooth regulation of the speed of the container feeding the product.
 "FROST"SYSTEM
The linear multihead scale can be equipped with a unique "FROST" system with a built-in intelligent heating system and thermostat inside the control panel, which protects the internal electronics against moisture and cold. It is the only protection against rapid temperature changes during washing and protects against moisture absorption inside (for example, a cold machine washed with hot water).
WE PROVIDE WARRANTY AND POST-WARRANTY SERVICE!