ELEKTRON-SXRF for small products, it is used to detect foreign bodies in the form of particles of all metals, bones, stones, glass, hard plastic and even rubber. The device is equipped with special side stops, which are designed to guide the product along the appropriate track and prevent the product from tipping over. The sides are adjustable, which makes it easy to adjust their spacing to the tested product.
These types of X-Ray scanners are used to test small products in a standing position, such as yoghurts, yoghurt additives or cream, as well as products in a lying position. The X-Ray scanner has been designed so that it can work with products packed in metallized foil, aluminum foil, low metal cans and small jars. Our X-Ray scanners are able to detect particles of foreign bodies even from Φ 0.4mm, which makes them one of the best scanners in the world.
DESTINY



Yoghurts




Cream



SPECIFICATION

-​​​​​​​​​​​​​​Permit by the President of the National Atomic Energy Agency No. D-17869.
-Single beam product scanning technology with one high power lamp directed from top to bottom.
-High level of detection and stability of operation when scanning products fed linearly and, which is unusual, entering driftingly.
-High level of security.
-Easy-to-use intuitive menu.
-Service support and supervision over LAN.
-Efficient and quick disassembly of the conveyor belt for cleaning.
-Menu in Polish and English (standard).
-Menu in German, French, Russian, Italian, Spanish, Turkish and Arabic (optional).
SYSTEM FUNCTION

-Detection of glass in glass (jars, bottles) and metals in metal packaging (cans).
​​​​​​​-Automatic detection of missing product in the package.
-Unique, full-range, multi-layer product control system.
-Smooth management of each detection zone increasing the level and quality of scanning.
-Password protected system levels.
-A wide range of parameter adjustments enable the system to detect bone.
-Automatic warning system about the current state of the X-Ray scanner.
-Automatic highlighting of pollution with a color corresponding to the assigned algorithm.
-Ability to save the report in an .xls file, so you can open the report on a private computer using Excel.
-Automatic saving of the defective product, possibility to save the selected photo to an external data carrier.
-Seven times the image to identify contamination.
X-RAY SCANNER SELECTION

The type and type of the X-Ray Scanner are selected according to the customer's requirements. 
The product dimension must be entered in the detection cone according to the table below.
DETECTION CONE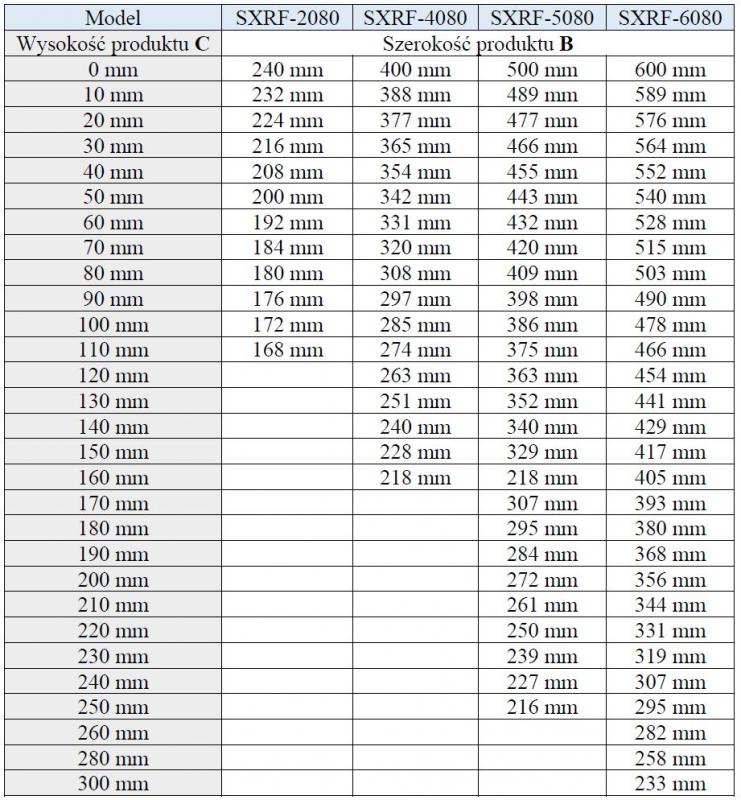 PARAMETERS
Model

ELEKTRON-SXRF

X-RAY LAMP

MAX. 80 kV, 350W

DETECTOR

LED 0,4 mm


Smallest detectable testers possible

Fe, NoFe, St/st BALL od 0,4 mm

WIRE St/st od 0,4x0,8 mm

GLASS/CERAMICS BALL od 1,0 mm

Seed conveyor

Adjustable to the range 0-60 m/min

Connection

port LAN, port USB

Product managment 

Automatic recording of the parameters of the tested product

Image managment

Automatic image saving and analysis

Display

17" touch screen

Cooling

Industrial air conditioner

Radiation protection

Protective tunnel and security system

External radiation

< 1µSu/h

Working temperature

od -10˚C do 40 ˚C

Working humidity

30-90% non-condensing water vapor

Supply voltage

230 VAC

Power consumption

1200 W

Tightness class

IP66

Housing material

glass-blasted stainles steel
List of individual components
| | | | | |
| --- | --- | --- | --- | --- |
| Function | Name | unit | quantity | Manufacturer |
| X-Ray source | X-Ray sender | set | 1 | VJ USA |
| X-Ray receiver | X-ray detector | set | 1 | DT Finlandia |
| Device managment | 17'' touch screen | pcs | 1 | iEi |
| Data processing | industrial computer | pcs | 1 | MOXA |
| Internal communication | card I/O | pcs | 1 | Adlink |
| Temperature and humidity control | air conditioner | pcs | 1 | HAILITE |
| Transport drive belt | gear motor | pcs | 1 | Oriental Motor |
| Speed regulation | inverter | pcs | 1 | Yaskawa |
| Electric security | switch | pcs | 1 | LS Korea |
| Electric security | relays | pcs | 1 | LS Korea |
| Electric security | fuse | pcs | 3 | Schneider Electric |
| Connections between devices and power | military connectors | set | 3 | PLT |
| Safety managment | limit switches | pcs | 4 | OMRON-Colin |
| Electicity managment  | relay set  | set | 2 | OMRON-Colin |
WE PROVIDE WARRANTY AND POST-WARRANT SERVICE!!!