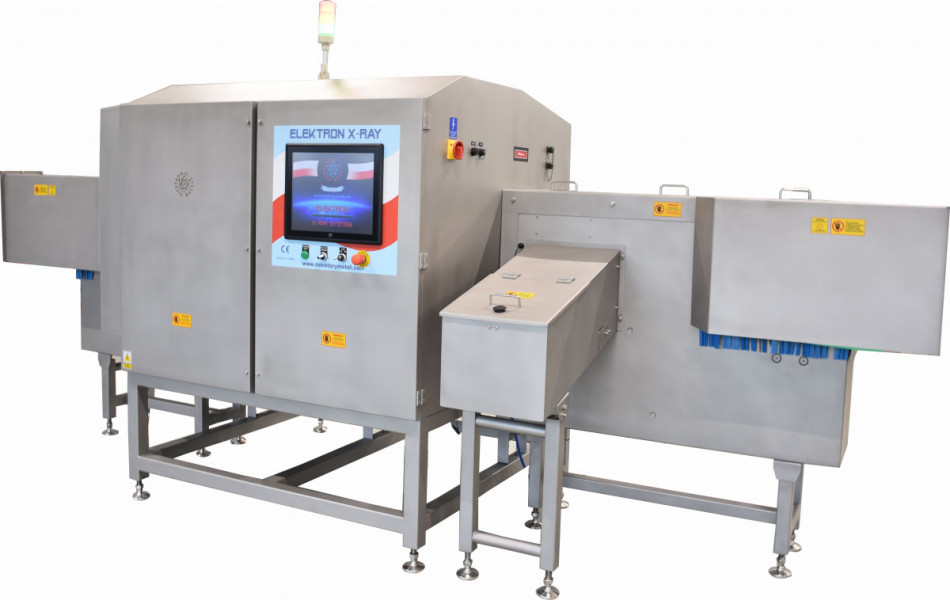 The detection level of - Fe, SUS, 0.4 mm, diameter with a length of 2.0 mm. 
Stones and glass from 1.5mm.
X-Ray - Output 300W - 80kV, 2.5M, power adjustable, made in the USA.
Security X-ray - safe for Max. 0.23μSV / h in accordance with EU standards.
The detection window - width 400mm.
Height 250mm height max.
TRANSPORTER PRAMETERES:
Adjustable conveyor speed 5-60m/min.
Max. product weight up to  15 kg
Width 210 mm
Height 270 mm
Monitor 17"color
LAN and USB
Built-in memory with auto-learn
Built-in copying, printing and picture analyzing system.
Power - 200 to 240V, 50Hz, 110V possibility, 60Hz
Construction and housing - with stainless steel SUS-304
Cooling - industrial air conditioner
Operating Environment - Temperature - 0 ° C ~ 40 ° C (optional extra cooling), humidity - 30% ~ 90% non-condensing steam.
Separator – type: pusher.
Abovementioned sensitivity results may vary dependently on tested product.
We provide domestic warranty and post-warranty service.
LIST OF THE VARIOUS COMPONENTS
| | | |
| --- | --- | --- |
| Function | Name | Producer |
| X-ray source | X-ray emitter | VJ USA |
| X-ray receiver | X-ray detector | DT Finlandia |
| Device management | 17'' touch screen | iEi |
| Processing of data | Industrial computer | TANK 820 |
| Internal communication | PLC | OMRON |
| Temperature and humidity | Air Conditioner | Pfannenberg |
| Conveyor drive | Motor with gear | Oriental Motor |
| Speed control | Inverter | Yaskawa/OMRON |
| Electric protection device | Switches | Schneider Electric/ABB |
| Connections between devices and power | Wyłączniki krańcowe | PLT |
| Security management | Limit switches | OMRON |
| Automation management | Sets relay | OMRON |
| Warning information | Optical-acoustic signaling device | Schneider Electric |