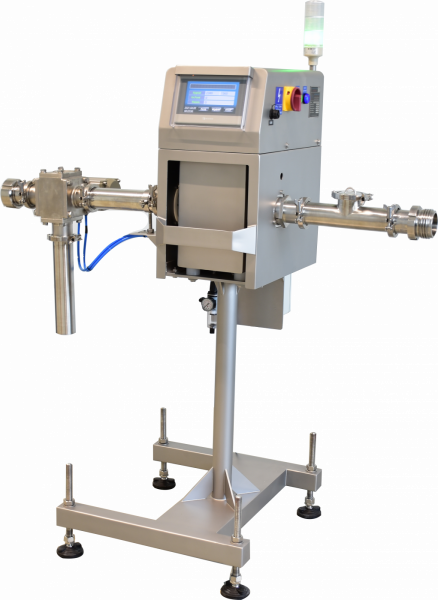 ---
ELEKTRON-MD-RC-S Digital Intelligent Tubular Metal Detectors are devices specially dedicated to testing products in difficult conditions with a very high degree of interference. They are designed in such a way as to eliminate the negative impact of a difficult product and the environment on the detection level to the maximum extent.
LIFETIME WARRANTY
From July 1, 2019, we offer a lifetime (10-year) warranty on the probes of our detectors.
WHAT MAKES US STAND OUT?
NON-CONTACT AUTO-LEARNING SYSTEM
The ELEKTRON-MD series of detectors has a non-contact auto-learning system, unique in other detectors, which analyzes the tested product and automatically records the detection parameters (e.g. the effect of the product itself and the background of the environment). By transporting the product through the pipeline under pressure, the detector learns the tested product, which makes the learning very accurate without interruption and increases the detection level and stability of the metal detector.
AUTO-CALIBRATION SYSTEM
Our metal detectors have a built-in auto-calibration system, thanks to which the devices do not require constant service inspections. The detection system accurately oscillates at the frequency of the test substance, adjusting itself to variable values. The management system is designed in such a way that every time the detector is disconnected from the network for about 15 minutes, it automatically performs background analysis and calibrates the system after restarting.
"FROST" SYSTEM
Our metal detectors can be equipped with unparalleled in other detectors, the "FROST" system with a built-in intelligent heating and thermostat system, inside the control panel, which protects the internal electronics against moisture and cold. It is the only protection against sudden temperature changes during washing and prevents the absorption of moisture inside (for example a cold machine washed with hot water). Operation of the machine in a cold store and with a frozen product.
DESTINY
liquid meat products
stuffing
fish luncheons, etc.
SPECIFICATION
Large, strong pneumatic beater based on a three-way ball valve for separation.
The system only rejects a small amount of product along with contamination.
Quick response time of 1s.
Frame structure for adaptation in the production process.
Easy and quick pipe connection system using quick assembly clamps.
Easy access to all elements for cleaning.
Very high sensitivity and stability of work.
Large and easy to read touch display.
Intuitive operation.
Optical-acoustic alarm, NO / NC output to stop another machine or conveyor belt.
Detects all types of metal such as Fe, Cu, Al, SUS, KO, etc.
USB output for reading and archiving data.
Detection history, date and time.
Menu in Polish and English (standard).
Menu in German, French, Russian, Italian, Spanish, Turkish and Arabic (optional).
SYSTEM FUNCTIONS
Automatic analysis of the external background.
Automatic analysis of the tested product.
Quick change of new operating parameters.
Memory function for testing 100 different products.
Work in automatic variable frequency.
Automatic product learning.
Automatic detection enforcement enforcement system.
Password protected access levels.
Simple and clear parameter setting system.
Detection analysis graph.
SIGNS
F - detector with a built-in "FROST" system
S - (separation) detector having a separator